There is nothing that can separate two people who love each other … apart from the fear of committing incest! This will be exactly the plan Ariane Kalenberg (Viola Wedekind)which in the next Italian episodes from Love storm will devise a diabolical plot to destroy the relationship of Robert Saalfeld (Lorenzo Patané) And Cornelia Holle (Deborah Müller). So here's what will happen in the episodes of Sturm der Liebe soon aired in Italy on Network 4!
Storm of love, Italian episode previews: Ariane wants Cornelia to believe she is Robert's sister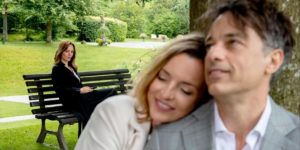 The triangle between Ariane, Robert And Cornelia is finally about to go live! Since the dark lady she fell in love with Saalfeld, in fact, her determination to conquer the latter has grown exponentially: now there is no longer just business!
When the man asked her to keep her distance so as not to endanger her relationship with her girlfriend, however, Kalenberg realized she had to change her strategy to carry out her plan. And the perfect opportunity will soon present itself …
Shortly after Robert's decision to stay away from herAriane will overhear a private conversation between the man and Cornelia, discovering that the latter's mother had an affair with Werner (Dirk Galuba). A discovery that will give the dark lady a brilliant idea: make the two boyfriends believe they are brothers!
Spoiler Storm of love, Italian news: Ariane manipulates the DNA test
Kalenberg will therefore begin to weave her web and the first step will be to get Cornelia to find a letter in which her mother – now ill with Alzheimer's – he "confesses" to having conceived her during his secret relationship with Werner!
Needless to say, Holle will panic when she reads those terrible words and even Werner can't help but worry. Although at the time his mistress had assured him that Cornelia was not his daughter, the hotelier will in fact begin to fear that it was not the truth …
And so, determined to remove all doubts, old Saalfeld will decide to carry out a paternity test. Unbeknownst to him though, Ariane will follow his every step and he will be able to get his hands on the envelope with the genetic samples of the two lovers… Will Kalenberg's cruel plan go through then? And what about the love of Robert and Cornelia?