The television market is really full of competing companies, including Sony, Samsung, LG and so on that are trying to grab the largest share of the market, bringing out more and more performing devices with even more defined screens. 4K resolution has now become the standard resolution, both for TV series and for television broadcasts around the world.
Today it is Sky's turn to enter the market, which for the first time ever, after twenty years of "only" television and streaming service, presented its first TV, called Sky Glass. The public presentation event was held last Friday, with an opening ceremony in the heart of Milan, specifically in Piazza Gae Aulenti.
One of the main features that distinguishes Sky Glass is the no modemwhich is fully integrated into the TV, making use of the internet connection.
The visual breakthrough is Quantum Dot technology, which further enhances image quality. The screen is in fact at Ultra HD resolutionand thanks to HDR technology it offers more than a billion colors.
The audio sector is excellent, thanks above all to the presence of one soundbar at the bottom of the Sky Glass and well 6 speakers, including a sub-woofer. The Sky Glass is available in different cuts, respectively from 43 inches, 55 inches and finally, for the most demanding consumers in terms of screen size, 65 inches.
The details of Sky Glass
Another very interesting feature of Sky Glass is represented by the voice control, which allows you to select the content you intend to play on the TV in a very convenient and quick way, without even using the remote control. It will be enough to say "Hello Sky"To activate voice control, and choose which content or app to launch. Sky Glass is in fact a smart TV in all respects, including the Netflix apps (which can be included in the Sky subscription), Amazon Prime, Disney Plus and so on.
It will also be possible to choose the frame color of its own Sky Glass, choosing between ocean blue, champagne pink, alpine green, ceramic white and other colors.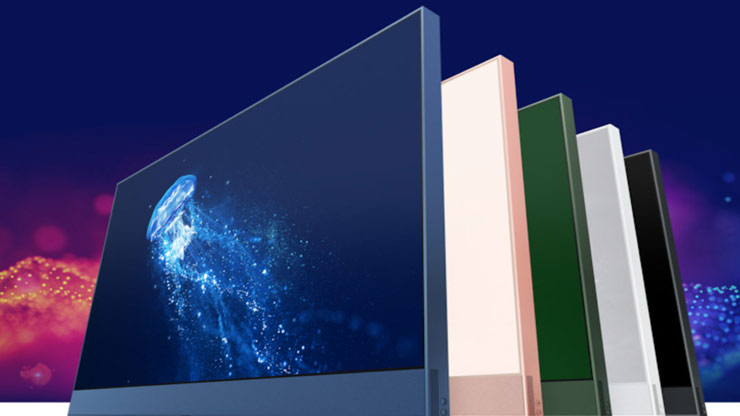 It is possible to pay for Sky Glass in two ways, provided that you are necessarily subscribed to Sky: in a single payment (697 euros for the 43-inch cut, 995 euros for the 55-inch cut and 1293 euros for the 65-inch cut) inches), or alternatively in installments, integrating it with the Sky subscription, upon payment of a deposit. You can choose whether to pay the television purchase in installments in 24, or alternatively 48 installments.