A well-known poetess sinks the poetry book of Giorgia Soleri "La signorina Nessun". Criticism is a real slap in the face. Here are the details.
Giorgia Soleri, a well-known influencer and activist, recently published a collection of poems entitled La signorina niente. Despite receiving a positive reaction from a part of the public, the book was also welcomed by numerous controversies on the web, disputes concerning Soleri's competences. To add fuel to the fire comes Flaminia Colella who is a poet by profession.
The woman, after reading Miss Nobody, is no longer there and has her say on Giorgia's true talent. Soleri has often defined herself as an influencer, a model, a photographer and poet as well as an activist. But to be a writer it is not enough to simply write two lines interspersed with white spaces as someone shouts on the Web.
Writing books requires study, work and analysis, and even the simplest seeming poem cannot be composed lightly. This is why the famous poet Flaminia Colella lashes out on Instagram against the Soleri and his book Miss Nobody, to try to give legitimacy to the art of poetry, too often taken lightly by many people.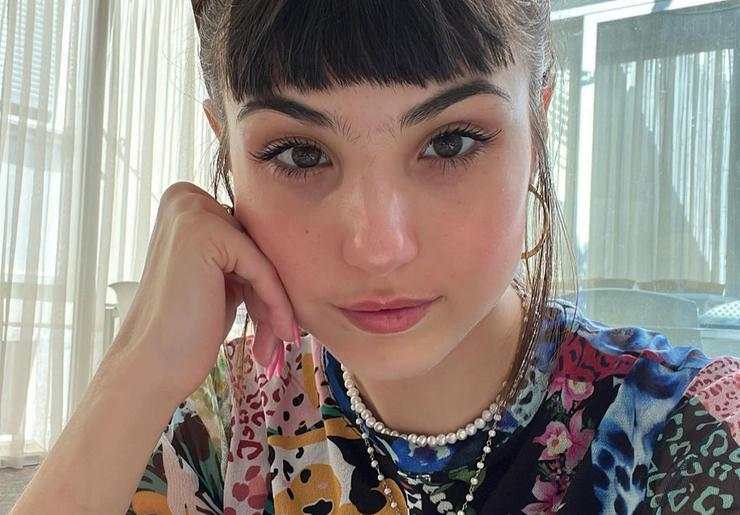 The harsh words of Flaminia against Giorgia Soleri
There Colella, poetess who has numerous books published and translated into different languages ​​to her credit and who also collaborates with Davide Rondoni, he unleashes with the one who is now a former friend of his. Here are her harsh words:
"Giorgia, when you interviewed me in 2020 here on ig about my" The voice of fire "you seemed to me a girl sincerely interested in literature and willing to learn. Here, art requires respect. You cannot cheat, because the proof of truth in poetry remains open for centuries. And behind us we have Dante, Ungaretti, Montale, Esenin, Celan, watching as we make our attempts.
Your book is a set of thoughts pitted at random between drawings and blank pages. There is no lexical research, no verbal tension, no metrics, no awareness of the even noble matter (love) that you intended to deal with; there are no "verses". There is simply a series of words that remain at the level of Instagram's "caption" under the most mundane photographs. The publishing market feeds on phenomena in this way, sending people who perhaps want to obtain a license of cultural / intellectual legitimacy to the world, have been seeing each other for years.
Then continue, "You must not fall into the dullness that this doped system generates. True poets know that fame is a malacopy of the eternal and that study, work and patience are needed. This can tell you only a teacher, or respect for the excellence of the great.
There are enormous poets who died in invisibility. Do not say serious things, do not compare yourself to those who have dedicated their blood and their life to art, creating immortal works, these are statements that leave you disconcerted and that could harm you in the future. Fashion remember Leopardi – it is the sister of death. I tell you this for the good. And I greet you with sincere affection. "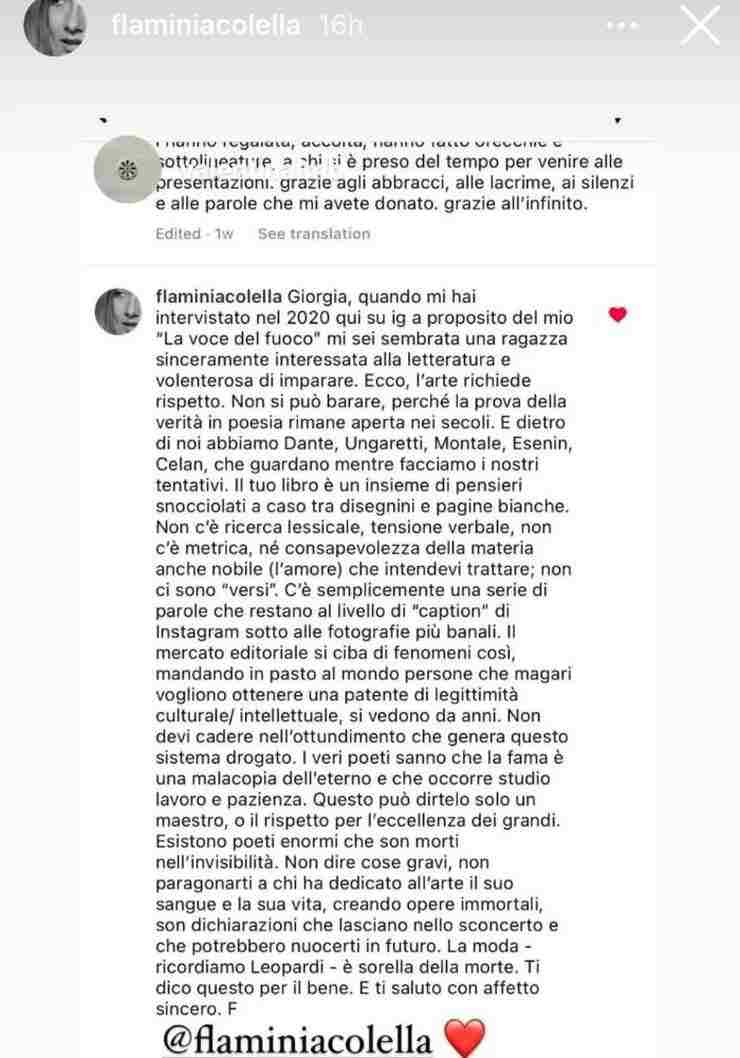 In fact, just before the publication of the book of the Soleri came to the surface as those verses came from an old social page she managed when she had not yet become famous. The girl would have collected what look like gods Instagram captions and would make a book out of it.
As he explains Flaminia is a technique, that of exploiting the image of a character in this case that of Soleri, typical of publishing to make money. This trend, however, does take away luster to a unique and profound genre like that of poetry.
It is useless to try to compare Giorgia Soleri to Alda Merinipart of the Web has clear ideas and states:
"Do you publish your poems because she is Damiano David of Måneskin's girlfriend?"
"Typical book by an influencer convinced that to write poetry it is enough to leave space between the words"
Giorgia Soleri is not convincing but her success, also due to the relationship with Damiano, is accompanied by increasingly heavy criticism.